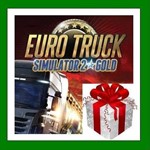 Euro Truck Simulator 2 Gold Edition - Steam RU-CIS-UA

Warning: game can be activated only in one of the following countries: Russian Federation, Armenia, Azerbaijan, Belarus, Kyrgyzstan, Kazakhstan, Republic of Moldova, Tajikistan, Turkmenistan, Ukraine and Uzbekistan.
06.02.2020 23:17:58
Всё отлично , код прислали сразу , но не понял где найти подарок , спасибо продавцу !
23.02.2019 15:47:54
Все хорошо, пришло быстро! Не откажусь получить подарок!!!
11.11.2018 18:20:25
Спасибо. Успешно активировал.
01.09.2018 9:37:59
Хороший продавец , покупаю у него уже не первый раз ) Хочу подарок !
10.06.2018 23:19:50
Лучший продавец! Купил ключ, всё активировал за 2 минуты, буду рад подарку! Спасибо
19.05.2018 12:32:24
Все хорошо, пришло быстро, Хочу получить подарок!!!
20.10.2017 3:17:55
As turned out, problem was on my side, thank you for understanding and help, good luck and sorry for misunderstanding
02.10.2017 23:19:52
Замечательный продавец. Приятно иметь дело. Все получил и активировал. Спасибо. Хочу получить подарок!!!
09.05.2017 13:53:40
Долго искал на разных сайтах этот комплект и вспомнил про Megakeys.ru. Оказалось, тут в 1.5 раза дешевле. Раньше уже тут закупался, всем советую! Хотелось бы подарочек! :)
09.05.2017 11:39:06
Решился не сразу.Ни разу здесь не покупал.Волновался зря, ключ пришел сразу(что понравилось, подтверждаешь смс с телефона,кроме тебя никто с твоей карты денег не снимет). В Стиме активировалось все без проблем. Рекомендую однозначно. Да и цены тут в разы выгоднее. Насчет подарка не знаю, посмотрим.
Хотелось бы подарок.

30.03.2017 12:25:04
Все Супер!
15.02.2017 19:28:32
Всё отлично, игру получил в течении нескольких секунд

Хочу получить подарок!
13.02.2017 15:42:26
все отлично! хочу подарок
09.02.2017 18:07:52
спасибо, всё супер!