Content: text (16 symbols)
Available: 2
Uploaded: 26.10.2017

Positive responses: 1
Negative responses: 0

Sold: 1
Refunds: 0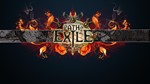 📚 The game Path of Exile has become a real hit among fans of online games. The world of POE, attracts mysterious and awesome scenery. The creators of the game did not want their creation to be in some ways similar to the popular today´s cute and fabulous game worlds - the game is really cruel, and in order to survive here one must really try.
❓ Why choose us:
📌 We work since 2006, which gives us a lot of experience and knowledge
📌 Only an honest product produced by hand without the aid of prohibited programs
📌 Fast Delivery
📌 Nice price and service
📌 Client always receives more than pay
📌 Discounts for regular customers
📌 An individual approach to each client
⚠️ ATTENTION! Write your nickname in the same way and in the language in which he at you in the game!
⚠️ Please BEFORE BUYING ask availability of the product at operator!
After purchase, you will see a PIN-code, you will need to notify us via any of the means of communication (see. Contacts) and an item will be given to Your nickname.
👍 Please leave a positive review in the box after the payment of the goods or the link www.oplata.info
🚀 Gate Into Game wishes you a pleasant game!
🏴󠁧󠁢󠁥󠁮󠁧󠁿 Operator speaks English & Russian & Ukrainian Languages!
26.10.2017 20:20:38
спасибо!