Content: 121220_8465a24765.jpg (12.77 KB)
Available: 1
Uploaded: 14.02.2013

Positive responses: 1
Negative responses: 0

Sold: 9
Refunds: 0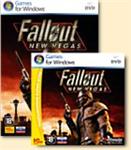 A new chapter of the cult role-playing series, which the unfolding events in the world, post-nuclear war.


Welcome to New Vegas - a city of dreamers and hunters for good luck. Three groups are ruthless struggle for control of this oasis in the post-apocalyptic desert. Those who are well armed and knows what he wants, is quickly become famous, but end up being a lot of enemies.


Do the hard way on a hot wasteland Mojave, go to the Hoover Dam, walk on the streets of the glittering neon of Vegas. While traveling, you will meet many colorful personalities, will take part in clashes between factions of power hungry, and fight with mutants of all stripes and sizes, and experience the unparalleled power of weapons.


Decide who will be your ally, or by choosing the path of the hero's single, stand autocratic King of New Vegas.


*** HOW TO GET A GIFT ***

1. When purchasing be sure to include your email address in a specially designated place

2. Be positive feedback (indicate email is not recommended, since it is possible to receive even more spam)

3. Within 48 hours you will receive to your email a photo gift (guest key for Diablo 3 or Starcraft 3)
After payment you will immediately receive an activation key fotoskan game Fallout: New Vegas in the Steam (officially circulated in Russia serial number from 1C).
Activation of the game:
1. You need to download and install Steam
http://steampowered.com/download/SteamInstall.msi
(if not already installed).
2. Register your account on Steam (if it does not).
3. Select "My Games", click "Activate game", enter the acquired key in the box that appears for entering the key.
4. Prepare the installation process (download) - about 45 minutes (depending on your internet channel time can vary greatly from the specified).
No feedback yet